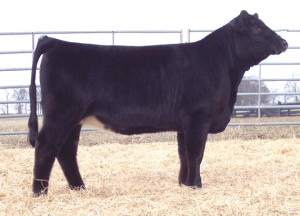 ASA#
2287880
SFV/NJC Jewels Touch  (NJC Black Jewel x CNS Dream On)
Jewels Touch is one of our top donors and is very consistant in her progeny.  Jewel is flush mates to Welshes donor Crown Jewel as well as RC Simmentals sire Third Degree and High Voltage found in Cattle Visions.  She is also maternal sister to Circle T's top donor Precious Jewel and full sister to Haleys Jewels Dream N54.  Listed below are our up and coming daughters from Jewels Touch which are making a great impact on our program. Her first son DSC Jewels Dynasty went on to show very well at the Ohio State Fair (check out photo under Bull page) .  Her first daughter DSC Diamond Jewel placed 2nd in 2008 Naile junior show.
ASA # 2432262 DSC Diamond Jewel  (Jewels Touch x Trademark)
ASA # 2481334 DSC Ruby Jewel (Jewels Touch x Built Right)
ASA # 2532312 DSC Jewels Legend (Jewels Touch x Daume Legend)
ASA # 2392368 JF Reba 737T  (JF Reba 364N x CNS Dream On
JF Reba 737T is a full sister to the $20,000 Lazy H donor JF Reba 517R.  Reba has developed into a great female and her first daughter DSC Reba 1008X listed below is real power house and has been drawing a lot of attention with her style and mass.
ASA # 2532307 DSC Reba 1008X  (JF Reba 737T x McDreamy)